About Us
Jit Enterprise's products are made to standard specifications and also precision-crafted to exact customer requirements.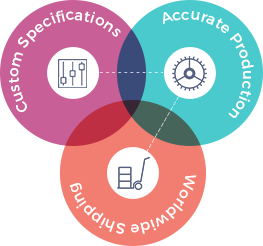 One of the chieftains in manufacturing and exporting of Brass Precision
Turned Components
, JIT Enterprise is the name of the game in the global market to provide durable and cost effective solution to varied market segment. Maintaining international quality standards, we have an ISO 9001:2008 certification in addition to RoHS compliance in maintaining quality consciousness in material melds. We deliver a range of durable Brass Precision Turned Components and quality Sheet Metal Components to different sectors in the market worldwide, which includes electrical, piping, gas, automobiles and many more industries.
---
What Makes Us Different?

Precision-Crafted Custom Products
A step ahead in providing customer satisfaction, our peculiarity lies in proffering high end customization in each and every assignment we take up. Our claim to fame in tendering to custom facilities in product diameter, shape, size, color, coating and above all the material to be used makes us different from others in the global market.

Unmatched Quality Standards
Attaining an ISO 9001:2008 certification, our constant focus is on delivering unmatched quality standards in the production process and durable products. Also, using quality material melds is at the nucleus conscious efforts to achieve defect free batch of production in turn helping to provide cost effective solutions to our customers.

Positive Approach
Providing personalized positive approach to every assignment as per the needs of our customer is our prime passion. This has also helped build a good rapport with our customers.
Delivering Value for Your Money
Right from material procurement, production, engineering, testing, packing, storing and delivery of order, we deliver an added value to our customer for every penny charged to them.