Brass Anchors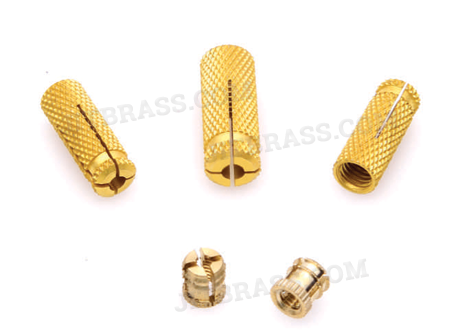 Anchoring Systems
Spring Anchors
Plain Anchors
Wood Anchors
Anchor With Thread
Drop Anchor
Sleeve Anchor
Pool Anchor
Round Stud Anchors
Pool Cover Anchors
Concrete Anchors
Slotted Anchors
Knuling Anchors
Installation :
Drill a hole as per the external diameter of brass anchors
Hammer the brass anchors into the hole
Take a required bolt for screwing
Fix it with suitable spanner
Application :
Used for all light and medium duty fixing in Building Industry.
For e.g. : Electrical, Sanitary Installation work, Air – conditioning, Mounting of suspended ceilings, Heating systems etc.
Size :
From 5/32, 4 mm to 16 mm 1/4″ to 5/8″ OR
Sizes available as per your drawing / sample
Finish :
Natural Brass
---
We can manufacture and export Brass Anchors as per specifications (custom drawing and samples) for more information please
contact us
or
Enquiry Now