Brass Electrical Components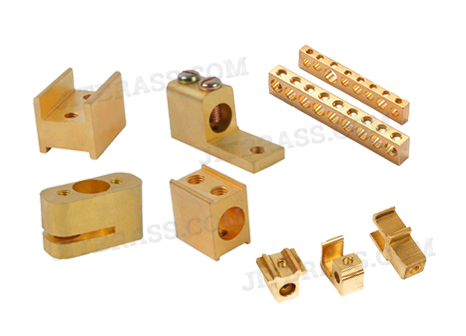 Brass Clamps
Contacts
Earth Block
PCB Terminals
Connectors
Couplers
Electrical Switches
HRS Fuse Connectors
Panel Board Accessories
Pin Terminals
Plug Pins
Saddles
Socket Pins
Test Bond
Wiring Accessories
Earthing Accessories
Neutral Links and Terminal Blocks
Electrical Switch Parts
General Brass Electrical Accessories
We are manufacturing all Kinds of Brass Electrical Components, Parts, and Fittings Like Electrical Plug Pins, Sockets Pins, Brass Neutral Links, Brass Terminal Block, Brass Connectors, Brass Earthing Accessories like Brass Dc Clip, Brass Earthing Clamp, Brass Couplers, Brass Earth Roads.
These Brass Components are consumed in various applications like Toggle Switches, Modular Switches, Switchgears, Fuse Switches, Plug Pins & Sockets and many Electrical & Electronic accessories.
Size :
manufactured only as per Customer's specified Drawings and Samples.
Threading :
Various types and sizes of Threading like B.S.W., B.S.F., B.S.B., B.S.P. & B.S.P.T as per British Standard Whitworth Form and N.C. & U.N.C., N.F. & U.N.F., N.P.T & N.P.S., N.S., N.E.F. etc as per American National Form Threads are available. All threads shall be as per International GO & NO-Go Standards.
Plating/Finish Available :
Various types of Plating/Finish like Natural, Nickel, Silver, Tin or as specified are available as per specified layer of microns.
Material :
High grade free cutting brass as per IS 319 (Type 1) or BS 249 (Type 1) or any other special Brass material composition as per customer requirement.
---
We can manufacture and export Brass Electronics Components as per specifications (custom drawing and samples) for more information please
contact us
or
Enquiry Now